DATE – 2003
DISCIPLINE – Education
MEDIUM – Installation and kinetic art
WEBLINKS
http://connected.waag.org/sentient.html
Each Wednesday from 1 October until 26 November 2003, the Sentient Creatures Lectures were held in the Theatrum Anatomicum of Waag Society. In this lecture series, Waag Society presented speakers with an international reputation in the field of robotics, conciousness and communication. The complete programme as it was published can be found here.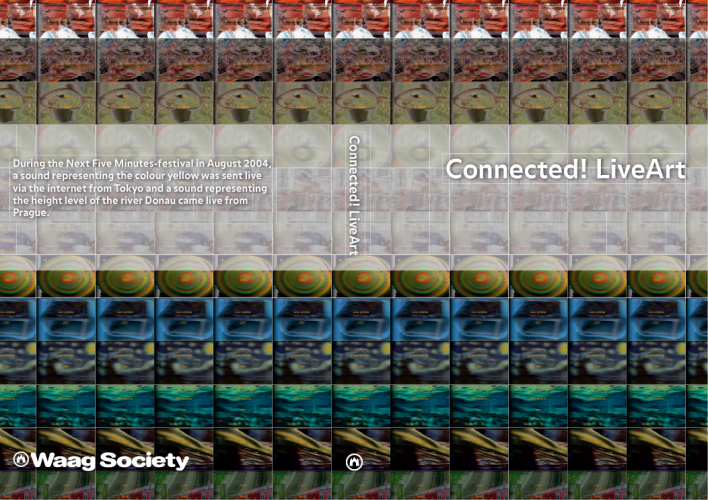 Sentient Creatures lectures series: Graham Smith – November, 26
In the last lecture of the series, Graham Smith, host of the lecture series, spoke about his recent robotic invention Pebbles, that enables ill children to be virtually present in the classroom, and the role new media may be playing in the evolution of new technological life forms.
http://connectmedia.waag.org/media/sentientcreatures/grahamsmith.mov
Sentient Creatures lectures series: Joe Davis – November, 19
Mr. Davis lecture was about his recent work with Cyborg sculptures and dna based artworks.
http://connectmedia.waag.org/media/sentientcreatures/joedavis.mov
Sentient Creatures lectures series: Kit Gallaway and Sherrie Rabinowitz – November, 12
Ms. Rabinowitz and Mr. Gallaway lecture was about their 25 years of experimentation using communications technology and the implications for the internet generation of artists.
http://connectmedia.waag.org/media/sentientcreatures/gallaway.mov
Sentient Creatures lectures series: Jaron Lanier – November, 5
Mr. Lanier talked about his new project called Phenotropic Computing, in which pattern recognition is used as a way of connecting components of software systems.
http://connectmedia.waag.org/media/sentientcreatures/jaronlanier.mov
Sentient Creatures lectures series: Catherine Richards – October, 29
Catherine Richards lecture was about concepts of Post Humanism and the role this theory will play in determining our relationship to intelligent machines.
http://connectmedia.waag.org/media/sentientcreatures/richards.mov
Sentient Creatures lectures series: Dick Bierman – October, 22
Prof. Bierman talked about the Global Consciousness Project (GCP). This project aims at understanding the unexplained correlations between global attention like what happened on Sept. 11 and the behavior of material sensors.
http://connectmedia.waag.org/media/sentientcreatures/bierman.mov
Sentient Creatures lectures series: Theo Jansen – October, 15
The artist Theo Jansen uses simple materials to give birth to wind powered beach creatures. Plastic pipe and air become 'organic intelligence'. He lets his huge skeletons walk on the beach. This lecture was partly in Dutch.
http://connectmedia.waag.org/media/sentientcreatures/jansen.mov
Sentient Creatures lectures series: Rupert Sheldrake – October, 8
Dr. Sheldrake's lecture was about the way the mind extends beyond the brain, as described in his new book "The Sense of Being Stared At, And Other Aspects of the Extended Mind" (2003). He discussed the implications of a field theory of the mind for sentient creatures, natural and artificial.
http://connectmedia.waag.org/media/sentientcreatures/sheldrake.mov
Sentient Creatures lectures series: Norman White – October, 1
White talked about his award winning sculpture The Helpless Robot, which asks for your help as soon as you come near it. White meant this machine to be able to assess and predict human behavior. It was built from plywood, angle iron, proximity sensors, a modified 80386 computer, and custom electronics. The result is a robot that speaks French, Spanish and English. Its synthetic voice invites people to move it as they like. White made the robot between 1987 and 1996.
http://connectmedia.waag.org/media/sentientcreatures/norman.mov