DATE – 1988
DISCIPLINE – Art
MEDIUM – Interactive kinetic sculpture
STATUS – Display at Interaccess in Toronto, Canada
WEBLINKS
http://www.xraylab.org/References/NOW%20On%20-%20Entertainment%20-%20Feature.html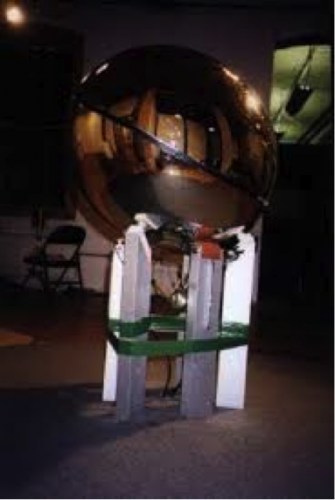 Local artists tackle robotic challenge
NOW MARCH 27-APRIL 2, 1997
By DEIRDRE HANNA
Just imagine something that is not only beautiful but does something meaningful — because it knows how to.
The concept of an intelligent sculpture is singularly compelling, so much so that few art forms carry a sexier cachet than robotics. Yet robotic art, sadly, is still very much in its infancy.
Anyone who wants a taste of where it might be going can get a major hit this weekend with the Spaceprobe exhibit of electro-physical art and the seventh annual Sumo Robot Challenge, which pits mechanized creations against each other in gladiatorial combat.
Fortuitous links
Spaceprobe is the second show the Toronto-based Art and Robotics Group (ARG) has put on at Inter/Access in the past six months, while the Sumo Robot Challenge has become a highlight on OCAD's academic calendar.
Despite the fortuitous timing overlap, the links between the two events are mostly coincidental. According to artist, teacher and Sumo Robot Challenge coordinator Norman White, about three-quarters of ARG's members have passed through various programs at the college.
ARG director Jeff Mann is adamant that his group's creations have little to do with OCAD's electronic sumo wrestlers.
"There seems to be a culture around robots," Mann says from the midst of the Spaceprobe installation. "Autonomous carts that zoom around or the toys that little kids play with tend to be the first things that come to people's minds.
"That's fine, but this is something else. I founded ARG to bring together people who want to explore electronics in three-dimensional spaces.
"To some extent, this work is interactive in that there's control and feedback, but what this show is really about is process. This is the kind of work that doesn't go anywhere until you see what actually happens when you try to put it together, and for the past year ARG has met every Tuesday evening for workshops."
The workshops tend toward the purely practical, with various members outlining tools and techniques they've used to make something in particular work. It's a gritty, hands-on approach that for Mann represents a reversal in the computerized direction most electronically driven art is taking.
"When I was at OCA, everyone in my program was working with motors, and I was trying to get people to write software. Most of what I've done since then is in the box, using computers, video and sound, but I find that stuff leaves me cold.
"Dealing with space, not just the virtual, is far more interesting."
Mann's own Spaceprobe offering, Spirit Catcher, is elegant and deceptively simple. A transparent plastic sheet billows above a white-housed fan while discrete antennae sense changes in electrical fields made by the movement of the plastic. These fluctuations are reflected in changes in the sound emitted by three tinny speakers.
Punning organ
Other highlights include James Ruxton's Heavy Breathing, a device that amplifies the viewers' breath; Rob Cruickshank and Wendy Whaley's Transmit/Reflect, featuring a vagina-esque booth that uses a laser to transmit images of those who enter to a fur-lined viewer; Graham Smith's reflective, revolving Rain Sphere; and Paul Davies' The Quantification Of Humans, a sisal mat that shows the relative position of those standing on it on a tiny neon chart.
Robert Erlich's No Escape roves around like a Jetsons-era robotic cart while projecting images between Inter/Access and Gallery 1313, in the heart of Parkdale. Robert Bernecky and Brad Harley take a comical turn with their Windows Of Opportunity, an off-key, pun-rich organ made from PVC pipes and rubber flipflops that plays a painful rendering of Mary Had A Little Lamb.
Other pieces are far less rewarding. Mann reveals his acute awareness of Spaceprobe's unevenness when he quickly notes that this show is completely uncurated. A week after the opening, two participants still haven't completed their installations. Shortcomings aside, however, Spaceprobe bristles with potential.
And the Sumo Robots are always a blast. As White observes, "It's an art form that allows for a lot of irony."